Currency exchange
just got a lot

easier.
We deliver foreign currencies to your doorstep.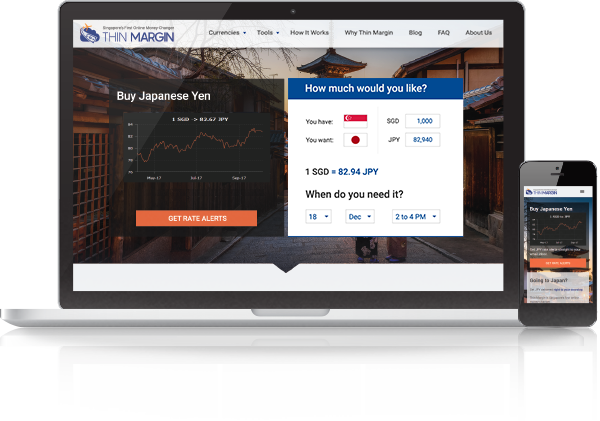 Orders are CLOSED FOR NOW
We accept orders on:
Mon - Fri:
10:30 AM - 5:30 PM
We're Singapore's first and largest online money changer, licensed by the Monetary Authority of Singapore (MAS). Experience home delivery of currencies at the best rates.
Limited slots daily, order today!
Create your order
Select your destination country or currency
Rates
< S$2,500
1 SGD = 80.27 JPY
≥ S$2,500
1 SGD = 80.35 JPY
Note: We're not taking in orders now, please refer to our transaction hours. Rates shown currently are indicative.
---
HOW IT WORKS
---
You choose the currency. We get it delivered.
1. Choose your currency
We offer money exchange of foreign currencies at extremely competitive rates.
2. Choose your delivery date & time
Why waste time making a trip to the store?
Just choose a convenient date and time for you to receive the foreign currency at the comfort of your home.
3. Pay online
Order online and forget about queuing up at an ATM!
TRUST & SECURITY
---
We understand that the delivery of foreign currencies is a completely new concept. We are Singapore's first and largest online money-changer after all. That's why we want to provide all the assurance you need. The first thing we'd like you to know is that customers do not bear any risk of delivery. Thin Margin will be fully responsible for getting the currencies to your doorstep.
Bank-level Security
Our platform is secured by 256bit SSL, the same standard of encryption banks use in general. Look for the green bar on your browser address bar - it is an indicator to show that we have been legally verified by a certificate authority.
Regulated by MAS
We are licensed and regulated by the Monetary Authority of Singapore (MAS).
Segregation of Funds
We ensure that your funds are completely segregated from our business funds, and will only be used to complete your order.
PDPA Compliant
We are compliant with Singapore's Personal Data Protection Act (PDPA). We use the data only in accordance with the requirements of the PDPA and will never share any of your data without your consent.
Identity Verification
We verify all our users to ensure that all orders are legitimate. No fishy business here!
WHY THIN MARGIN
---
Save Time
Your time is precious. Don't waste it queuing at a store and ATM. We deliver right to your doorstep at competitive rates.
Save Money
Convenience doesn't have to come with a high price. We offer extremely competitive rates, and you'll still earn rewards over time!
Hassle Free
Manage all your foreign currency transactions easily with our online platform.
Safe & Secure
You don't have to carry money around. We bear all the risks for you. The money-changing platform is operating under the jurisdiction of the Monetary Authority of Singapore (MAS).
Use the promo code below during checkout to enjoy S$2.00 off your purchase.
2OFF
Thank you for joining the Thin Margin family!
Note: Please use your desktop for a better browsing experience.