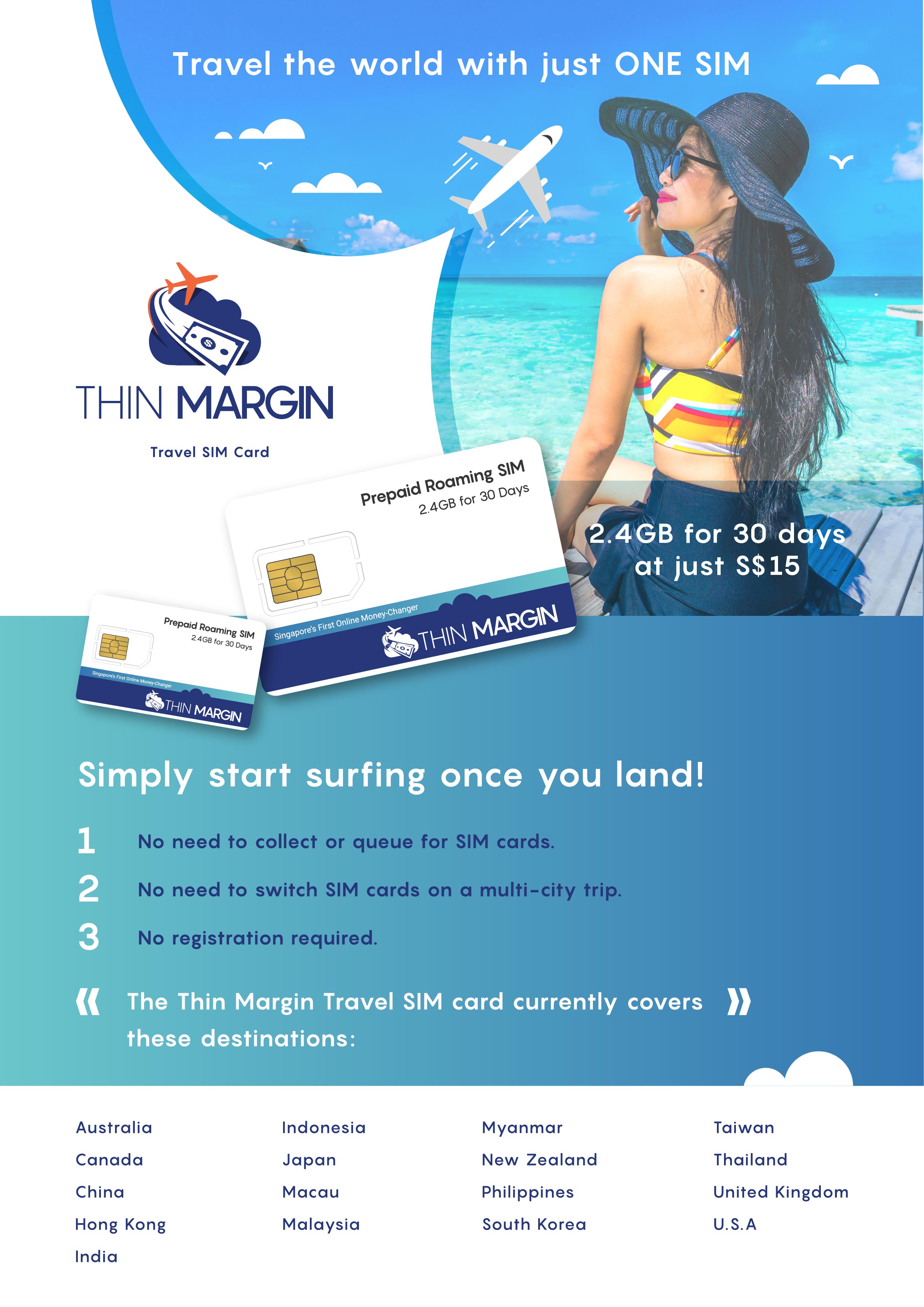 FREQUENTLY ASKED QUESTIONS
---
What is the Thin Margin Travel SIM Card?
Our Travel SIM card was designed with Thin Margin's core principles; to save you even more time and money.
With this SIM card, you don't have to:
waste time queuing up at the airport;
fumble over SIM card registration;
switch different SIM cards on a multi-city trip.
Does it support mobile tethering (personal hotspot)?
Yes, it supports tethering on most phones, especially newer / popular models. Unfortunately, we're unable to guarantee that it will work on every single device.
How good is the network coverage?
The network coverage is directly supported by the destination's local telecom operators, and is as good as a local SIM card. The SIM card will connect to the strongest available network automatically once you land.
Can I still use WhatsApp with my existing number?
Yes, of course! You can still use WhatsApp with your home number with a different SIM card. However, please make sure you do not reinstall WhatsApp while you're overseas, or you may need to re-verify your account.
https://faq.whatsapp.com/en/30028016/
Will I be able to access blocked sites in China, such as Facebook or Instagram?
Yes, of course! Our SIM cards are not subjected to the internet censorship policies in China so you can access websites such as Facebook, Instagram, and Google.
Do I have to do any registration for this SIM card?
No, simply insert the SIM card, activate it, and start surfing immediately!
What is the size of the Thin Margin Travel SIM Card?
It is a 3-in-1 SIM card (TriSIM), allowing you to switch between the Standard SIM, Nano SIM, and Micro SIM, without needing any SIM card adapters.
When does the first day of validity start and when does it expire?
The 30-day period begins when you insert the SIM card and data is first used. Otherwise, the SIM card is valid till Oct-2019.
Can I make local calls with this SIM card?
This is a data only SIM card, so it does not support local calls or SMS. You can still make VoIP calls over the internet via applications such as WhatsApp, FaceTime, Skype, WeChat, Telegram, Line, etc.
Can I top up or extend the 30-day validity?
Unfortunately, this is not available at the moment.
What if the SIM card doesn't work? May I get a refund?
In almost all cases, the SIM card may not work if the Access Point Name (APN) is not set. Please do ensure that the APN was set up correctly. Otherwise, we will investigate and if the SIM card is found to be faulty, we will provide a full refund. Please note that we cannot provide a refund for any other reason, such as trip cancellation or phone incompatibility.
How do I activate the SIM card?
1) Enable 4G and switch on Data Roaming on your mobile device
2) Set Access Point Name (APN) to: (found at the back of your SIM card's card)
For iOS: Settings > Mobile Data > Mobile data Options > Mobile Data Network
For Android: Settings > Mobile Network > Access Point Names